North Shire Lodge – Meet Brad & Stacie
Stacie Ruiz and Brad Killian are both from Delaware and share a love of travel and adventure. Along with their son Rhys, they enjoy visiting new places and meeting different people along the way.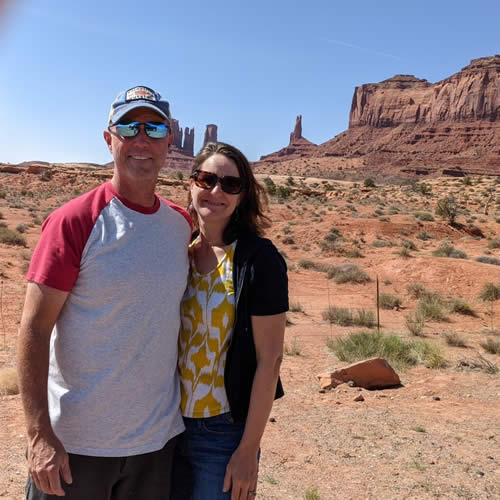 Stacie enjoyed a long career as a teacher and elementary school principal. Her last few years in education were spent at the University of Delaware supervising student teachers. As this work was part-time, this position gave her the opportunity to spend more time with her family and pursue her passion for cooking and baking.
Brad weaved a 20-year career path through the non-profit and public sectors specializing in environmental education, advocacy, and local planning. Always outdoorsy, Brad longed to live in a beautiful place where he could hike and enjoy his natural surroundings.
Before they met, both Brad and Stacie loved to experience new places. Together, they enjoyed exploring locations in the US and abroad. It was during this time they experienced the charm and unique comfort of staying in small, locally owned Bed & Breakfasts and Inns.
As parents, Brad and Stacie wanted to instill a love of adventure and travel in Rhys. Together, they enjoyed road trips to New England's rocky coast, Florida's sunny beaches, and many places of note in between. For years, they attended RV shows and shared a collective fantasy of "someday". In 2021, they made their "someday" fantasy into a reality. The family sold their home, purchased a fifth wheel RV, and hit the road for a grown-up gap year.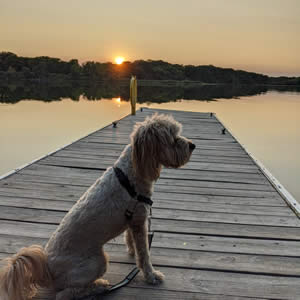 Their RV adventure took them to over 30 states. Some of the best times on the road included meeting other travelers from across the country who were always willing to provide tips and tricks for how to get the most out of this momentous family journey. They loved meeting fellow travelers and sharing stories of their adventures with friends and family and new folks met along the way.
As they made their way across the country and back, they contemplated their future plans and where the family might land when it was all over. Through it all, what remained important to Brad, Stacie, and Rhys was a love of the outdoors, meeting interesting people, and doing it together as a family.
They wondered; how could they combine everyone's interests while also forging a unique path for their family? Running a small family-owned hospitality business in Vermont was the perfect answer!
Brad, Stacie, son Rhys and dog, Otis are excited to welcome travelers to the North Shire Lodge and are thrilled to have the opportunity to provide the personalized attention they have enjoyed at B&Bs and Inns throughout their own travels.